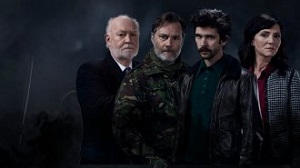 Screening of this National Theatre Live "A Seat On The Front Row" performance is at 7.00pm on Thursday 22nd March 2018
Caesar returns in triumph to Rome and the people pour out of their homes to celebrate. Alarmed by the autocrat's popularity, the educated élite conspire to bring him down. After his assassination, civil war erupts on the streets of the capital.
Nicholas Hytner's production will be in promenade, thrusting its audience into the street party that greets Caesar's return, the congress that witnesses his murder, the rally that assembles for his funeral and the chaos that explodes in its wake.
Ben Whishaw and Michelle Fairley play Brutus and Cassius, leaders of the coup, David Calder plays Caesar and David Morrissey is Mark Antony, who brings Rome back under control after the conspirators' defeat.
Admission £12.50 – box office telephone 01257 463878 – all seats unreserved, but we advise you to buy your tickets in advance. Doors open 30 min before screening. Hot Drinks will be available in the interval, but other refreshments will be on sale beforehand too.