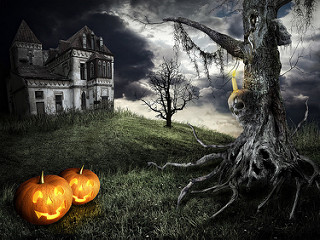 If you like Ghost stories, then Lancashire is the place to be. It has been dubbed as the third most haunted county in the UK.
Our little West Lancashire doesn't miss out on the action either, as our round up of Haunted Places in and around West Lancs demonstrates!
Rufford Old Hall of course puts West Lancs well and truly on the most haunted map. Rufford Old Hall is said to be haunted by Queen Elizabeth I. It's unclear why she has chosen to manifest herself in West Lancs but many witnesses say they have seen her always in the same place, the dining room. As soon as anyone makes bold enough to approach her, she vanishes! She shares the hall with another lady, Elizabeth Hesketh. Unlike her queen, Elizabeth did get married but shortly afterwards, some say that it was at the actual wedding breakfast, her new husband was called away to fight. She quickly became ill but refused to die until she could see him again. She never did but her ghost, they say, still waits, walking about the Hall, looking for her errant husband.
You may also have heard the rumours of a Grey Lady walking across the road in the dead of night near Rufford Old Hall, perhaps this was also Elizabeth Hesketh searching for her husband…..
There are other ghosts at Rufford, including a man who floats above the nearby canal but, as far as we know, her beloved is not one of them.
Car Moss Lane – Halsall
There have been several reports of an elderly man, wearing clothes from the 1900's, appearing in the back seat of passing cars. When the driver turns around, or pulls over the man disappears.
A local Doctor even launched an eerie appeal asking for help in tracing the story behind the ghostly sightings on Halsall Moss, after his friend became a victim of the Halsall Hauntings.
The Church – Halsall
A Grey Lady is said to haunt the church and surrounding area in Halsall. There have been several reports of sightings of this ghostly figure.
The White Lion – Upholland
A Highwayman is believed to haunt the pub.
According to legend, George Lyon, known as The Up Holland Highwayman, was finally tracked down and arrested in the White Lion while he was enjoying a pint. He was hanged on April 22 in 1815 at Lancaster Castle and his body was returned to Up Holland for burial on St George's Day and he has supposedly haunted the pub ever since.
Dave Wainwright, licensee at The White Lion, has reportedly said: "There have been lots of stories and reported sightings of the Highwayman over the years. I think he probably just came back to finish his pint and decided to stay!
Ince Blundell
A notorious accident black spot, blamed on the grey lady or nun, Ince Woods is loved by walkers and ramblers. The grey lady has been seen wandering along Cross Barn Lane to the local main road and standing amongst the trees in the woods. Several people have reported seeing the Grey/White Lady, who is sometimes referred to as the Nun, in the woods, or on the road near the Weld Blundell pub.
Ralph's Wife's Lane – Banks
This story is one of tragic love and loss! Visions of a ghostly lady on dark winters nights walking from St Stephens Church to Fiddler's Ferry are seen holding a lamp searching for her husband who was lost at sea. Ralph was thought to be a smuggler or fisherman. Connecting the main road from Banks with Crossens to the south, Ralph's wife lit lamps in her window every night until her death so her husband could return home. The area of their home is now two bungalows. Poor Ralph's wife is reportedly still searching for her love.
Bank Hall – Bretherton
There have been reports that a woman in a white dress has been spotted walking her dog in the distance from the gates of the Bretherton Bank Hall.
It is said she and her pet vanish without a trace the moment you take your eyes off her.
Other reports from Bretherton Bank Hall include the whispering of people's names in visitor's ears when no one else is close.
Heskin Hall
This Grade I listed building is one of the best preserved and finest examples of Tudor architecture in Northern England. The presence of a White Lady is said to haunt within its walls, as well as two men believed to date back to the English Civil War during the 1600s, due to several battles taking place close to the hall itself. A young Roman Catholic girl hanged by a priest in order to provide evidence for his conversion to Protestantism, is also rumoured to appear as a ghost.
Don't believe the rumours? Why not head over to one of our haunted spots this Halloween to see if they're true…… that's if your DARE!!
Image source: https://www.flickr.com/photos/artiomp/
http://westlancsbuzz.org/wp-content/uploads/2017/10/4061353880_5ceb52834d_n.jpg
240
320
admin
http://westlancsbuzz.org/wp-content/uploads/2016/12/buzz-transp-1.png
admin
2017-10-26 14:45:05
2017-10-26 14:49:31
Ready for Some Ghost Stories this Halloween? Check Out Some of the Most Haunted Places in West Lancashire......