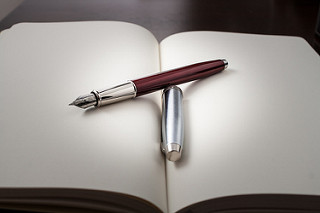 Is there a frustrated Shakespeare inside of you or a Bill Bryson bursting to get out? Then why not join the Skelmersdale Writers Group to help release the inner writer in you.
Skelmersdale Writers Group has been going for over 7 years and is open to anyone. Whether you write  fiction or poetry, article or autobiographies, there is a place for you.  There is a range of abilities within the group, from self published and traditionally published authors to unpublished writers, meaning there really is a space in the group for anyone who wants to put pen to paper or finger to keyboard.
Having a membership of 15 people, the Skelmersdale Writers group regularly hosts around 10 people to each meeting making it a small friendly community. This means it is less intimidating for new members (and old!)  to share their work openly and receive support and feedback.
The Skelmersdale Writers Group meet twice a month (except in December) on the 2nd and 4th Mondays of every month, bank holidays permitting. Meetings commence at 7.45 and finish at 10pm and are held at at the Trinity Methodist Church meeting room, High Street, Skelmersdale,  WN8 8AT.
The first meeting of the month is 'Read your own work', with an option of members to send work out by email beforehand to  get more feedback and the second meeting varies from being workshop based, a write on the night activity or a discussion.
Annual membership is £20 (£15 for unwaged) payable after third visit. Membership fees are due in June and are pro rata'd if you join part way through the year. All members are also asked to donate £1 a meeting to pay towards room hire.
Want to know more? Find the Skelmersdale Writers group on facebook at https://www.facebook.com/groups/123947450956960/
Want  to get a flavour of the writing Skelmersdale Writers group do? Then you can purchase one of their anthologies from Amazon – HERE
Want to join? Contact the chair
Heather Cowley on 07957259121 or email: heathercowley@rocketmail.com
http://westlancsbuzz.org/wp-content/uploads/2017/06/9169068026_65c4bd0650_n.jpg
213
320
admin
http://westlancsbuzz.org/wp-content/uploads/2016/12/buzz-transp-1.png
admin
2018-09-25 12:31:51
2018-09-25 12:31:51
Unblock your creative talents by joining Skelmersdale Writers Group